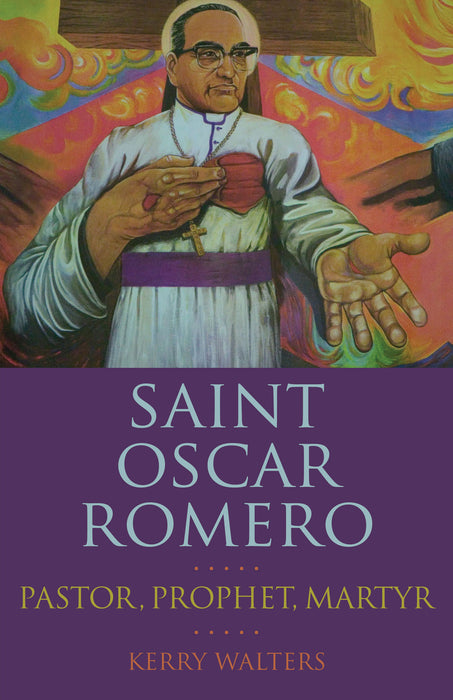 Saint Oscar Romero: Pastor, Prophet, Martyr
Kerry Walters explores the Salvadoran archbishop's journey from carpenter's son through his early priesthood, his selection as a "safe" bishop who wouldn't rock the government boat, to his transformation into someone who proclaimed the truth of the Gospel so unswervingly that it led to his assassination. Item# B53265
Buy more and save more with quantity pricing!*
| Quantity | Discount |
| --- | --- |
| 5+ | 10% |
| 25+ | 20% |
| 50+ | 30% |
| 200+ | 35% |
*Not applicable with other discounts
Saint Oscar Romero; Pastor, Prophet, Martyr
I knew the story because I had seen the movie, but there was so much I didn't understand; like what was the cause of all the violence , and how he developed his ideas. The book answered all of this. Because he is a contemporary, we have writing and videos of him. That makes him so much more real.
review
Most interesting read. His early life, commitment to the ruling class and then the major change. Giving his life for those who had nothing. Very inspiring.
I have not read the book yet. I have too many to get to.
St.Oscar Romero
This is a well written book about one of our extraordinary 20th century saints. St. Oscar told those in power the truth, and desperately sought peace. His reward was to be shot dead while preparing the Eucharist. His story needs to be read by everyone that loves their freedom or is seeking freedom. St. Oscar, pray for us.
Saint Oscar Romero
I enjoyed it and learned a lot about a Saint whom I had believed to have stood up for the poor and persecuted. I was surprised to find that wasn't the case and that he'd been appointed bishop because of his staunch conservativism. I was also surprised (somewhat) by the lack of support the institutional church gave him.
Kerry Walters is a professor emeritus of philosophy and peace and justice studies at Gettysburg College in Pennsylvania. He is a prolific author whose books include Saint Teresa of Calcutta: Missionary, Mother, Mystic, Practicing Presence: The Spirituality of Caring in Everyday Life, and The Art of Dying and Living.
Product Type: Book
Item Number: #B53265
ISBN: 9781632532657
Publication Date: 10/2/2018
BISAC: RELIGION / Christianity / Saints & Sainthood
Imprint: Franciscan Media
Trim Size: 139.7 mm X 215.9 mm X
(Approx. 5.5 in X 8.5 in X )
Pages: 192
List Price: $ 15.99