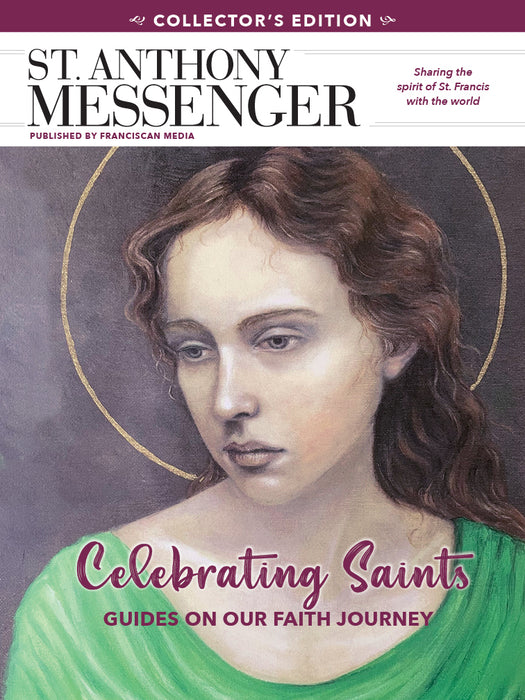 St. Anthony Messenger Collector's Edition: Celebrating Saints
For the first time, the creators of St. Anthony Messenger magazine present a high-quality collector's edition celebrating the saints—the perfect gift or keepsake to read over and over again! This collector's edition offers an in-depth and popular look at the saints, including: "Sts. Clare and Francis: Assisi's Most Dangerous Citizens" by Pat McCloskey, OFM " Therese of Lisieux: An Unlikely Patron Saint" by Shannon K. Evans "Blessed Carlo Acutis: The First Millennial Saint?" by Natalie Ryan "St. Joseph: Man of Virtue" by John R. Barker, OFM, and much more!
Always fun to read
I've been enjoying the Messenger for quite a few years now, and it never gets old! I loved this special edition on the Saints. I love reading about the Saints, even the ones who are much lesser known,. Thanks for making it a special edition that I can keep. Pax et Bonum
St. Anthony Messenger Collector's Edition: Celebrating Saints
Celebrating a Few Saints!
I was a bit disappointed in this "collector's edition" as I thought it would feature way more saints than it did. However, the ones featured were done well.
For my grandchildren
My husband and I wanted to give our 5 grandchildren something spiritual for Christmas. We chose this book as a way to do this. They all live in the same household and it gives them something about God and the saints to look at.
St. Anthony Messenger Collector's Edition: Celebrating Saints
Product Type: Magazine
Item Number: #
ISBN: 9781632534095
Publication Date:
BISAC:
Imprint:
Trim Size:
(Approx. )
Pages:
List Price: $ 8.99