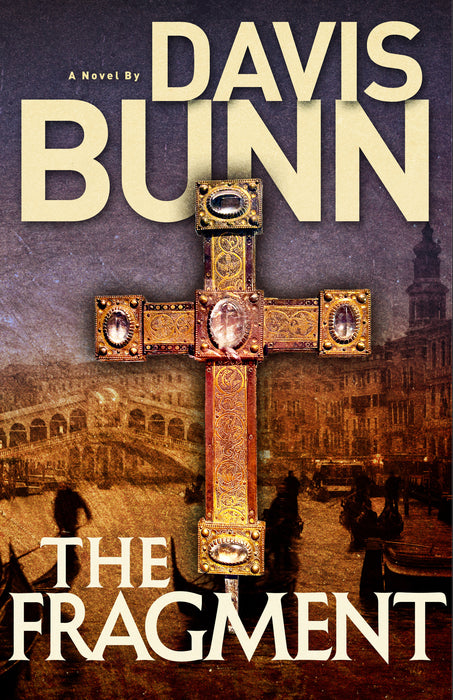 It's 1923, and Paris is beginning to recover from the ravages of World War I and the Spanish Flu Epidemic. Naïve young American Muriel Ross stumbles into a plum assignment photographing antiques for a globetrotting U.S. senator. But events take a dangerous turn when she discovers that her employer is on a mission far more momentous—and potentially deadly—than a mere shopping trip. Soon, Muriel is enmeshed in a covert alliance dedicated to authenticating a fragment of the True Cross—and protecting it from those who will stop at nothing to steal and discredit it. Item# B36934
The Fragment
I enjoyed the story of the search for the true fragment of the Holy Cross. Mr. Bunn is a good storyteller.
I am not familiar with what you are referring to !
The Fragment
I just could not get into this book. I found it boring, uninteresting.
Loved this story! I felt as if I watching history unfolding right in front of me. A compelling book!
Davis Bunn, a professional novelist for twenty-four years, has sales in excess of seven million copies in twenty languages. He has appeared on numerous national bestseller lists, and his titles have been Main or Featured Selections with every major U.S. bookclub. Davis serves as Writer-In-Residence at Regent's Park College, Oxford University, and has served as lecturer in Oxford's new creative writing program. In 2011, his novel Lion of Babylon was named a Best Book of the Year by Library Journal. The sequel, Rare Earth, won Davis his fourth Christy Award for Excellence in Fiction in 2013. In 2014, Davis was granted the Lifetime Achievement award by the Christy board of judges.
Product Type: Book
Item Number: #B36934
ISBN: 9781616369347
Publication Date: 2/19/2016
BISAC: RELIGION / Christian Living / General
Imprint: Franciscan Media
Trim Size: 139.7 mm X 215.9 mm X 5.08 mm
(Approx. 5.5 in X 8.5 in X 0.2 in X )
Pages: 176
List Price: $ 3.00