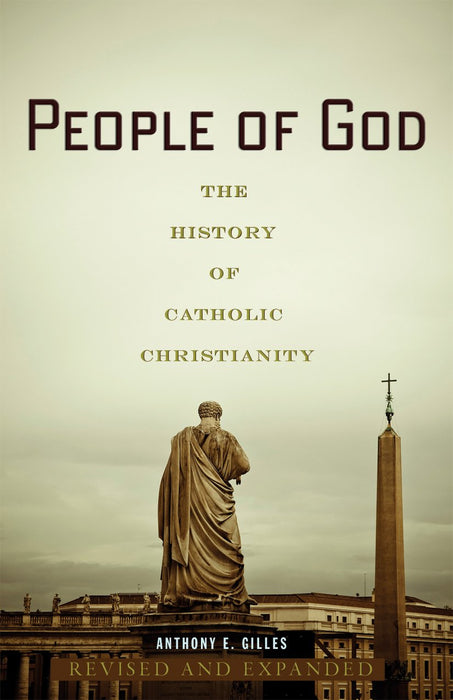 People of God: The History of Catholic Christianity
The history of Catholicism is the history of Christian faith. Anthony E. Gilles traces its development—from its beginnings in hushed gatherings within the Roman Empire to its current size and influence—in an accessible and enjoyable style. A revised and updated compilation of the history volumes from his best-selling People of God series, this book will help you understand how the Church developed in relation to, or in rebellion against, the larger culture. It details centuries of crucial turning points from the development of apostolic succession to the implementation of the reforms of Vatican II. Complete with maps, timelines and special "focus" sections on important events and issues, this valuable resource belongs in the collection of every student of Church history. Item# B16363
People of God: The History of Catholic Christianity
Impossible
It was well written, and I enjoyed reading it. However, it is impossible to cover 2,000 years of Catholic history in one volume.
Enlightening
After everything that happened, the church is still alive! God has blessed us. Let us all praise Him and give thanks!
Saints missing
The ending is better, but most of the history is negative. It all may be true, but where are the saints & holy people of God that prayed the church to keep the truths alive?
"
ANTHONY E. GILLES lives with his wife in Atlanta, Georgia, where he regularly speaks at parishes and lectures in diaconate formation programs on Scripture and church history. He has taught history at Rutgers and the classics of Greek and Roman antiquity at the University of Tennessee. He has written eleven books and over five hundred articles on history, philosophy and religion.
"
Product Type: Book
Item Number: #B16363
ISBN: 9780867163636
Publication Date: 10/1/1999
BISAC: RELIGION/Christianity/Catholic
Imprint: Franciscan Media
Trim Size: 152.4 mm X 228.6 mm X 13.462 mm
(Approx. 6.0 in X 9.0 in X 0.51 in X )
Pages: 251
List Price: $ 12.99