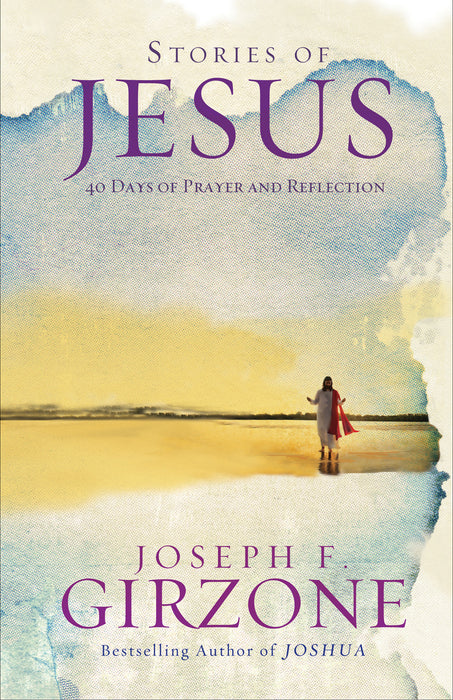 Stories of Jesus: 40 Days of Prayer and Reflection
Stories of Jesus provides a portrait of Our Lord in a day-by-day reflection format, based on the Gospel accounts of his life and teachings. Through these reflections, the author of the Joshua books introduces Jesus and his adult ministry—from his baptism by John the Baptist through his public life and work, to his death and resurrection—pausing along the way to focus on the important people and events of Jesus's world. This creative approach to the life of Jesus will inspire a sense of God's Son as someone who is a constant companion as we walk though our own lives, one who understands, guides, and loves us with deep affection. Item# B36631The audio edition of this book can be downloaded via Audible.
Stories of Jesus: 40 Days of Prayer and Reflection
Time away
Easy to use and informative.
great meditations/ Focus on Jesus as a man
Stories of Jesus
Short, very helpful essays that fit into my day
40 day meditation
I used this book as a walk through Lent learning about Jesus' ministry through different eyes/reflections on familiar stories.
Joseph Girzone, an international bestselling writer, is the author of the popular and inspirational Joshua books, which are an imaginative telling of the life of Jesus. It is estimated that more than forty million people in the U.S. have read those books. In 1995 Girzone established the Joshua Foundation, "an organization dedicated to making Jesus better known throughout the world." He retired from the active priesthood in 1981 and has devoted his life to writing about Jesus. He lives in Altamont, New York and blogs at www.JoshuaMountain.org.
Product Type: Book
Item Number: #B36631
ISBN: 9781616366315
Publication Date: 12/16/2013
BISAC: RELIGION / Holidays / Easter & Lent
Imprint: Franciscan Media
Trim Size: 139.7 mm X 215.9 mm X 10.16 mm
(Approx. 5.5 in X 8.5 in X 0.39 in X )
Pages: 160
List Price: $ 3.00