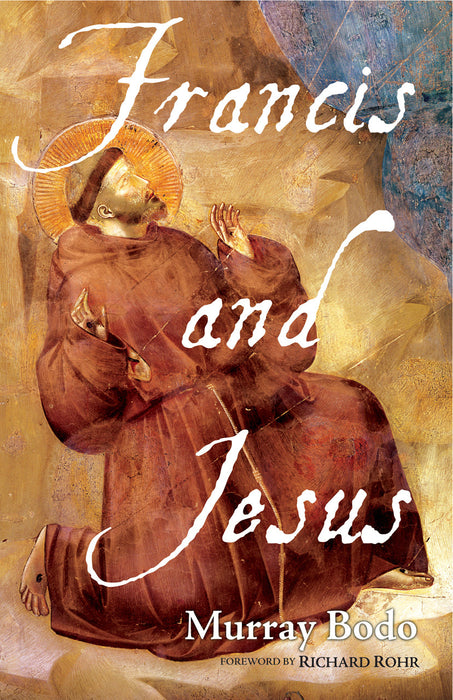 Following up on Francis: The Journey and the Dream, Murray Bodo offers a maturing of his own friar's spirituality in this dramatic storytelling of Francis' close connection and relationship with Jesus. Here we see a multi-dimensional, yet internal Francis as the ultimate disciple of Jesus: Francis as sufferer, in the wilderness, as itinerant, as misunderstood, in prayer, as teacher, as lover and protector of the poor, in authority while subject to God's authority, in community, as healer, as wounded. #: B16995
Buy more and save more with quantity pricing!*
| Quantity | Discount |
| --- | --- |
| 5+ | 10% |
| 25+ | 20% |
| 50+ | 30% |
| 200+ | 35% |
*Not applicable with other discounts
It was a gift for a friend!
Happily surprising indeed!
This is the first biography of St. Francis that I've read and am grateful to have started with this book. Francis' love of Jesus, and love for all he encountered shines through; a beacon for us to follow.
Jesus and Francis
I really enjoy all the books I can read that are about St. Francis. Being a Secular Franciscan and a [Pastoral Associate at my parish I need to know all I can.
God bless.
Lyrical, beautiful, splendid
What a marvelous book! Murray Bodo never disappoints me but this book is one of the best books I have ever read. It is easy to read and presents Saint Francis in a way that makes me love him even more. After reading it I come away feeling peaceful and inspired to follow the Franciscan way even more closely.
"
MURRAY BODO, O.F.M., is a Franciscan priest and member of the Franciscan Academy. He is the award-winning author of numerous books, including the bestselling Francis: The Journey and the Dream, three books of poetry, and most recently Surrounded by Love: Seven Teachings from Saint Francis. Bodo has had his poems, stories and articles published in magazines and literary journals in the United States and Ireland. He resides in Cincinnati, Ohio, and spends summers in Assisi as a staff member of Franciscan Pilgrimage Programs.
"
Product Type: Book
Item Number: #B16995
ISBN: 9780867169959
Publication Date: 1/4/2013
BISAC: RELIGION/Christianity/Catholic
Imprint: Franciscan Media
Trim Size: 139.7 mm X 215.9 mm X 11.684 mm
(Approx. 5.5 in X 8.5 in X 0.43 in X )
Pages: 176
List Price: $ 18.99