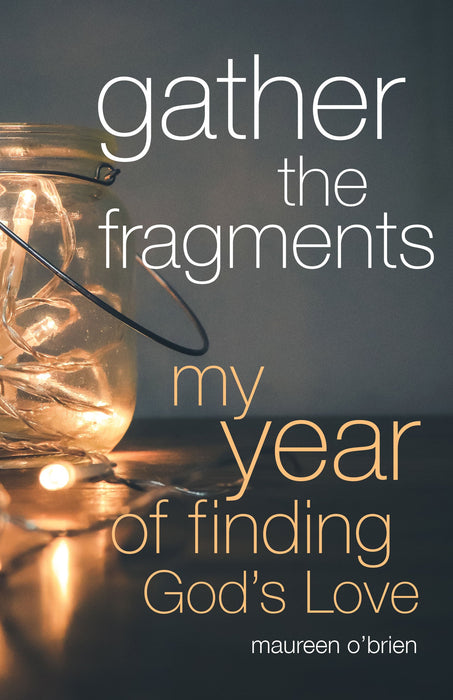 Gather the Fragments: My Year of Finding God's Love
In this memoir, Maureen O'Brien reflects on the gospel story of the miracle of the loaves and fishes and what she learns about herself, the people around her, and a fragmented but still beautiful world. Item# B53423
Buy more and save more with quantity pricing!*
| Quantity | Discount |
| --- | --- |
| 5+ | 10% |
| 25+ | 20% |
| 50+ | 30% |
| 200+ | 35% |
*Not applicable with other discounts
"Gather the Fragments": Vivid, Touching
Maureen O'Brien's "Gather the Fragments: My Year of Finding God's Love" is a vivid, honest, and touching read. Her book is beautifully written. Her book is inspiring. Maureen's candor about her personal struggles is striking, as is her gratitude and optimism. Her descriptions of people, places and events that have affected her are vivid, touching, and inspiring. Inspiring, too, are the messages about her deep faith and the role her faith has played in her salvation and in her joy. Readers are certain to feel that inspiration and joy in reading Maureen's collection of lovely, moving essays.
A Life Affirming Collection of Stories
I was walking my dog thru the local cemetery and came across a jar with a string of lights in it. The following day I saw the advertisement for this book. I was raised in the Catholic Church and attended Catholic school year for 12 years. It has been difficult to defend the faith over the past couple of decades even though I continue to have a deep faith. This book is beautifully written and spells out how fragments and miracles are around us everyday if just take the time to recognize them. Thanks to Maureen for sharing her story of her journey over the one-year period. It was easy to read and to relate to. My faith is stronger for it and I look forward to hearing more from this author.
*Highly recommend this item!
Peaceful encounter
Realization is half of the solution and this book helps us to find it.
Gather the Fragments
Very inspiring with touching personal examples!
"Maureen O'Brien is the author of the spiritual memoir What Was Lost: Seeking Refuge in the Psalms. She is a contributor to St. Anthony Messenger and the online site Pause+Pray. She has also published a novel, B-mother (Houghton Mifflin Harcourt) and The Other Cradling, a chapbook of poems (Finishing Line Press). Her award-winning short stories and poems have been published widely in magazine and anthologies. She lives in Connecticut where she taught creative writing to teenagers for twenty-five years. She finds beauty in the contrasts of life—sunrise and dusk, crying and laughter—they never cease to amaze her."
Product Type: Book
Item Number: #B53423
ISBN: 9781632534231
Publication Date: 3/7/2023
BISAC: RELIGION/Spirituality
Imprint: Franciscan Media
Trim Size: 139.7 mm X 215.9 mm X
(Approx. 5.5 in X 8.5 in X )
Pages: 168
List Price: $ 16.99