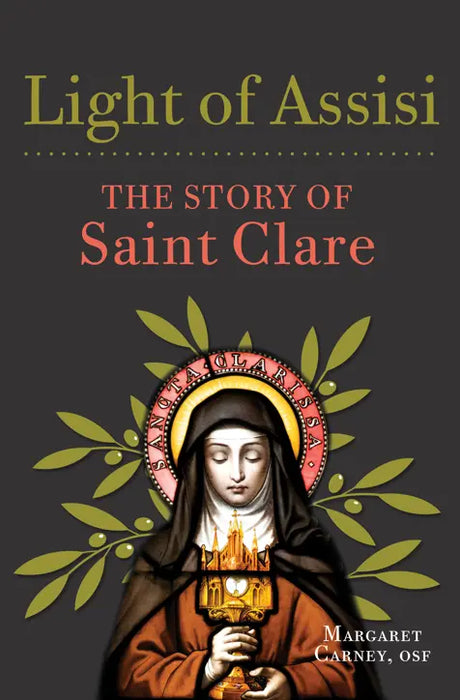 Light of Assisi: The Story of Saint Clare
While weaving together Clare's story and Francis's story, Margaret Carney draws special attention to Clare's significant contribution to the Franciscan world in the many years following Francis's death. Far from merely reflecting Francis's light, Clare had her own charism, "a gift bestowed by the Spirit of the Lord and given to her in a fullness and forcefulness that was hers alone."  This book will introduce St. Clare of Assisi to those who do not know her and those who wish to know her better. It leads the reader from Clare's birth to her death. While taking account of modern scholarship, Sr. Margaret Carney tells the story of this medieval woman in a way readers today can understand. Item# B53370
Buy more and save more with quantity pricing!*
| Quantity | Discount |
| --- | --- |
| 5+ | 10% |
| 25+ | 20% |
| 50+ | 30% |
| 200+ | 35% |
*Not applicable with other discounts
I found the book fascinating and informative. I have a greater understanding of St. Clare and her role in Franciscan formation.
A fresh view of St. Clare's life and ministry.
The Light of Assisi: The Story of St. Clare is an interesting and insightful account of St. Clare's life and ministry. It is written from a woman's point of view and insights by Margaret Carney, a Franciscan Sister and scholar. She helps us understand the culture that Clare grew up in, and how it colored her life as a follower of St. Francis and an independent woman. Her struggles to remain faithful to her beliefs and goals in the face of a controlling Pope helps us appreciate her life's challenges. It is written in down to earth language that should be easily understood by any well educated person. One does not have to be a Franciscan scholar to appreciate Margaret's insights.
So inspiring
I enjoyed every morsel of Margaret Carney's book. She is one of the best Franciscan theologians, in my opinion.
The saint in the shadow
The book summarizes the vocation and life of the saint in the shadow of Francis. Her own accomplishments should energize women today, which could bring her out in the spotlight to be a model in her own right.
Margaret Carney is a member of the Sisters of St. Francis of the Neumann Communities. Her education in theology and Franciscan studies took place at Duquesne  University, the Franciscan Institute of St. Bonaventure University and the Pontifical University Antonianum in Rome. She served on the commission responsible for the revisions of the Rule of the Third Order Regular in 1982 and completed her research on the Rule of St. Clare in 1988. From 1999-2004 she was the Director of the Franciscan Institute and served as a founding member of the Commission on the Franciscan Intellectual Tradition. Her presidency of St. Bonaventure University began in 2004 and she retired from that post in 2016. She continues to serve as a lecturer and leader for Catholic higher education and Franciscan organizations of the United States (U.S.). 
 
Product Type: Book
Item Number: #B53370
ISBN: 9781632533708
Publication Date: 4/6/2021
BISAC: RELIGION/Christianity/Saints & Sainthood
Imprint: Franciscan Media
Trim Size: 5.5in X 8.5in
(Approx. 0.2 in X 0.31 in X )
Pages: 160
List Price: $ 16.99